It was a cold morning and i had a lot of things to do before midday. My flight was scheduled for  6 pm, but my dad wanted me to leave as about one pm.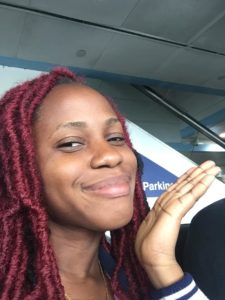 I had not traveled before so i felt it would only be fair if this experience was shared. It was kind of mixed feeling; i had just done my convocation in Babcock University, then my phone was stolen, then I was traveling leaving people I was comfortable with.
On the day of my journey, I had nursed so many fears allowing me to get cold feet because I am afraid of heights, never traveled before so I didn't want to embarrass myself, Ekiti girl that I am now. Then changing of accent was another concern of mine, I mean can't I just speak English without adding a tune to it.
At the airport, the lady behind me was like is it the whole family that came and I said yes I  can't be left alone. I had a travel buddy, Dami and I was so happy because at least i knew somebody. He had traveled before so he was my guide on things. The boarding time was 6:30, I got there around 2 I don't know what is with Nigerians and sleeping at the airport before the time. By the way, you can book your flight on Travelstart.
Anyways, I had done last minutes shopping of sugar and toothpaste so it was in my hand luggage, I didn't know what and what was allowed while traveling. I had downloaded youtube videos but didn't have time to watch it. I didn't want to be too naive.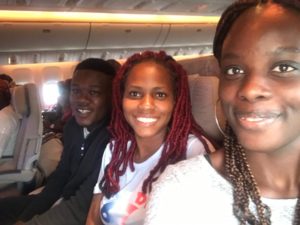 So my toothpaste was thrown away but the other guy allowed my sugar and rob to go with me. Getting into the plane it was nice and okay, i saw a couple of movies. At first, I was so pressed I wanted to ease myself but for one reason or the other, I had this illusion that I was in a BRT bus and so if i stand up and don't hold on to anything i would fall, hence why I had to hold my urine. They had served jollof rice and some meal like that wasn't all so beautiful but I eat it small and did shakara like my other friends that complained about how they don't like their food- as they had traveled a couple of time. Getting to Dubai, I could all my family members to tell them where I was, they were so happy for me.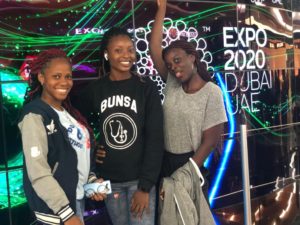 Oh! another interesting part of the journey was the shirt I wore that says; "don't die without Jesus'. God, I was scared because I was in a Muslim state and didn't want to get harassed by anybody. That was big testing of faith o, your comfort Zone never allows you to know your strength. Prayer warrior was scared o. I had to use my jacket to cover it. I just didn't want unnecessary drama from them. One time I saw one man that tied a turban and my heart skipped for a second.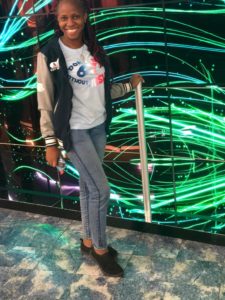 My seat partners were complaining about how long the journey from Dubai to New York will be, omo, I was a little bit less concerned my own was sha to get to the overseas. Truthfully I got tired abeg but eventually, we got to New York, the food we were served, all those oyinbos raw stuffs i could not eat them o. The immigration place was another work. We had spent so much time there that i missed my flight to Chicago so I had to sleep in a hotel in New York. the flight was moved till the next day by 6:30 we had one stop over at Charlotte before we got to Chicago.
Fast forward, one fun fact about me is I hate to use the escalator. I have never understood that thing but I did like a big girl now I form as i could but it was in the Charlotte airport that my bubble bust o! we were running to catch our flight, Dami and I when this thing was just moving and I was too scared to get in I spent like 3 minutes looking at it and Dami was just like wawu. I was a bit embarrassed but there was really nothing I could do jare. Shame had left me. But in all, I am grateful for this opportunity  I get to see life outside the Lagos hustle and madness. There is nothing like actually being exposed the right way so you don't embarrass yourself like me. lol……
Do well to share your first time experience in traveling as well as other stuff.