Unpopular Nigerian Netflix movie- Totally worth your time.
Nigerian movies are a go-to for me. With the recent partnership with Netflix, there has been a reachable platform whereby you can watch a series of Nigerian movies at the comfort of your home. This is especially with the lockdown, no thanks to coronavirus.
I am particularly proud of the fact that Nollywood is beginning to change the monochrome storylines and embracing diversification ranging from comedy, action-thriller, etc. Of course, this is not without any loops but we can only encourage and hope for better days ahead.
There were some movies I watched on Netflix not as hyped as the others but totally worth it and I couldn't have been more excited about them.  On a busy week, I reward myself by watching Netflix from Friday night till Sunday.
Read also:
Here are the Top 3:
The Delivery Boy
This is a thriller movie that centres around a snippet of the happenings of Boko haram in Nigeria.  The story focuses on a significant number of cultural awareness going from enrolling youngsters into Jihad to the maltreatment of underaged by relatives, the messed-up medical system, the corrupt civil society and sheer ignorance of people in the society.
The story is centred around a suicide bomber and a sex worker, both victim of circumstances. They colluded while on a separate mission in search of their identities, their stolen pasts, money, and any semblance of peace they can find.
The lead actor, Jammal Ibrahim, is not your regular everyday screen prince, however, he was sure to exemplifying his character in a visual manner as with his face and outward appearances. For every scene, he wore the character so well.
Every scene was sure to pass a message. A scene worth of mention would be at the Orphanage where Kehinde Fasuyi stared as Sister Dorcas. Her ability to deliver a rush of emotions in the only scene she appeared in is very commendable. Her character went from joy to fierce, to unforgiving, to survivor of society and considerably more in a split-second and she doesn't skirt a beat.
For a movie in which most of the scenes were shot at night, the cinematography is applaudable. No wonder of the 12 nominations at the AMAA, it won the 'Best achievement in visual effect' at the 2019 AMAA.
Nimbe:
The movie explores various societal issue but at the centre of it is the reoccurring message of 'Do not use drugs'.
This is an emotional movie of a young boy living in a rural area with his parents, exposed to emotional abuse by his parents. He, then finds solace in love and relevance in a street gang of which he was introduced by a neighbour. He finds comfort in using smoking and using hard drugs which eventually cost him his life and that of the people he loves.
An emotional and resonating part of this movie would be when his mother sensed he had derailed and ran to his boss crying to leave her son alone. Thereafter the boss had a very emotional and tearing up speech with the boy, Nimbe. He explains the joy, agony and pain of motherhood. Toyin Abraham was very exceptional in delivering this role to the best of her ability. I must chip in that the ability of this woman to act just any role and become that character is super amazing. I am totally rooting for her.
The story-telling was super amazing and very relatable. It serves the middle class and low-end. The cast was very intentional as everyone brought their A-game even as a supporting cast.
Read also:CELEBRATION OF LIFE
Diamond in the sky: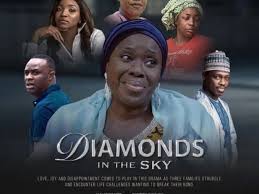 I shrugged a bit with the title of the movie, thinking it was going to be just another 'Nigerian movie again'. But I must say it was worth it. I particularly like when entertainment is used as a medium to address societal issues and also able to connect with society. Also, I must say that I was super impressed that it was produced by Femi Adebayo, a multi-faceted actor particularly known in the Yoruba sphere. This suggests diversification, not the regular EbonyLife or a Jadesola Osiberu movie.
Another praiseworthy to mention is the fact that it was shot in Ilorin as opposed to the regular popular and maybe the only bridge in Lagos.
The movie centres around three women of various social class and age group as they go through a rollercoaster of emotions trying to navigate through uncertainties and struggles as cancer affected their normal lives. I am not sure of the medical terms used there, if they are correct then it must be impressive. It tries to pass awareness to women on being conscious as regards their health. It is very difficult to find a movie that tries to educate and also entertain. Most times such movie falls short in one aspect but for this, it covered the field as it was able to find a balance between entertainment and educating.
The central theme revolves around cervical cancer and women's health. It is not without fault but totally worth it.
Summarily, I like that the three movies made use of the not so familiar faces of Nollywood. Every one of them was able to deliver the role adequately. I am liking the series of events that Nollywood is bringing our way. So much creativity and improvement compared to the Nollywood of old. I am excited about new beginnings.
What your current favourite Nigerian movie?