Out of the numerous social applications, one of the must have as a student or a career person is LINKEDIN. Linkedin is the largest professional network. It is fastly growing to also be another social network where people get intimidated but not to worry. Building a Linkedin profile is similar to any other social media application with an added advantage. I actually learnt how to use LinkedIn well by myself, then observing people coupled with a little research and free training that was conducted by Ameen of Everything na Art. I got materials for my project by connecting with someone on LinkedIn. I have also had a lot of opportunities as well.
Importance
1. An easy step to make yourself stand out when connecting with people. Hence why your profile shouldn't be blank.
2. It serves as an online Resume or CV
3. You can exhibit your writing prowess.
4. Contribute to trending topics in the world.
5. You have firsthand/ direct access to opportunities from recruiters
6. Networking opportunities and access to top people.
7. Learning opportunities through articles, post, or free training.
8. You can add your personalized Linkedin resume to your CV, that way the recruiter can have access to more information than your CV.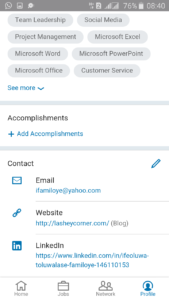 How to leverage on LINKEDIN
1. Make your profile picture look professional. It is a professional network you can keep all your slaying for Instagram and snapchat. Make sure it is an up-close picture and your face can be seen easily.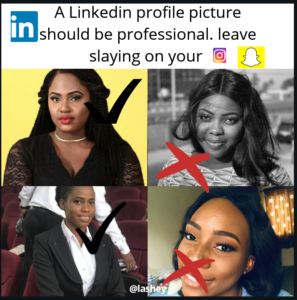 2. Your header should be very catchy. Don't put things like 'available of internships or placement' or 'student.' KEYWORDS are very important. There are one million and one students and that wouldn't draw any recruiter to you. Instead, you should include what value the recruiter would be interested in. such as "finance graduate" or "I am skilled at" such that when recruiters are looking for such position your name will pop out. Point is to let your profile communicate value.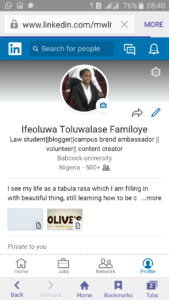 3. Ensure you include any volunteering opportunities you have been involved in with proper details of your activities and involvement.
4. Also, include any leadership role and achievement you have been involved in if any.
5. Your previous internships and position held. In this regard, one of my mentors would say, HUMILITY does not help. Never undermine your tasks. You must be able to sell yourself well. Paint your task in such a way to give an impression that you are an innovative person and would be a good team player.
6. Also, try to include profile summary which should be in first person pronoun
7. Personalize your connection request. As some might be a little bit hesitant connecting with strangers. You could break the barrier by including how you know them, identify some commonalities and why you would like to connect with them.
8. Get people to reference you. Just like before you see a movie you check for ratings, same goes for prospective employers. Optimize recommendations with keywords. You have an opportunity to review recommendations given by others before it gets published.
9. Add people in roles similar to yours.
10. Leave comments on posts of people that you are interested in working with or for.