Ennygele is a voice to reckon with in the world of making beautiful headgear and shown his craft by showing us the dynamism of tying gele. Read his interview with Lashey on the growth and success of his business.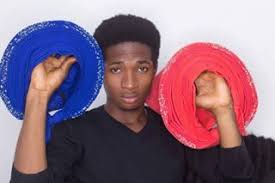 Beyond ennygele, describe yourself?
My name is Fatola Eniola Evans. I am a 300 level student of Ekiti state university. Studying "Theater and Media Art." I am also a dancer, I love to sing, and I love to sketch.
What informed your decision in going into this line of business?
Okay! Ehmm… Lemme start by saying "passion is a strong drive that pushes you to the brink of realization, determination of pursuing a particular goal. (My definition tho)?Have always had an artistic passion to create designs through many mediums, drawing e.t.c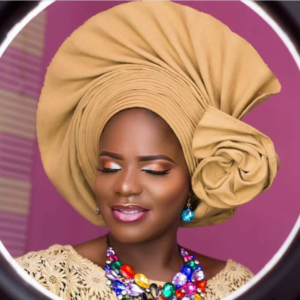 Take us through the process of your growth from the beginning?
The journey started a few years back when I learnt unconsciously from my mum who is a makeup artist @fanciesmakeovers. Although gender difference and the fact that men in women business line behave like women stopped her from directly teaching me so as not to end up being gay.
see also; https://lasheycorner.com/accountability-partner-an-incredibly-easy-method-that-works-for-all/lifestyle/opinions/
But along the line, because she had trust in her son later permitted me. I was doing makeup and getting a token from it for party rocker at times brides
And later mum suggested I learn Gele of which she put me in for the class with @onigele. My class lasted for  2 weeks learning the basics of Gele tying
And later on, kept on inventing
I have invented the followings: Acegele, Gele manipulation series, auto gele and apple gele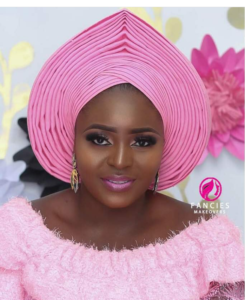 Do you have people who work for you?
Yes, I have two people working for me.
How do you ensure to build effective work team?
Schooling and working have not been easy so building an effective work team is something I am still working on.
It is almost like by the break of each new day, there is a new trend. How have you stayed relevant and how do you intend to subsequently?
I fell in love with the craft and worked on my self…" So hard"
I kept practicing… And a time came I invented the ACE GELE
Which brought me to the limelight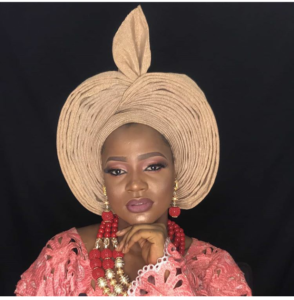 How would you describe your first work?
Well, my first work was really nothing compared to what I can do now… I believe life unfolds in stages. Am still working on myself and looking forward to greater heights and achievements.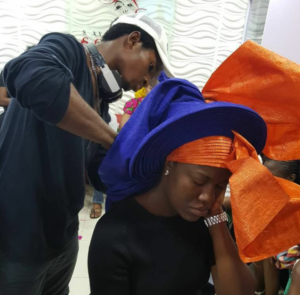 Who are your role models?
God is my first role model. Because him alone can bring perfection to my life… Then my mum, then onigele and successful people who inspire like Steve jobs, Nelson Mansfield e.t.c
Greatest inspiration of all time?
Mandela
What are the main principles you follow to build successful customer relations?
Emm… I make sure I keep to time, do my best when I am working on a customer, and am always kind and calm towards them.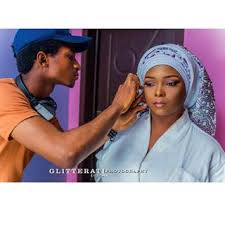 If gele goes out of trend today, what would you fall back on?
If Gele goes out of trend is actually a statement I don't believe in. In as much as clothing doesn't go out of trend. Growth is constant no matter what. Like my motto says "IMPROVING THE ART OF HEADGEAR CRAFT WORLDWIDE.
see also; https://lasheycorner.com/an-interview-with-ajibowo-olajide-founder-ryse-and-an/entrepreneurship/
Where do you see yourself a few years from now?
I see my self owning a company with international standards… GOD HELP ME!??????