One major problem that every young start-up entrepreneur faces is the lack of adequate capital. You hear things like "I have the idea but I have got no funds for it".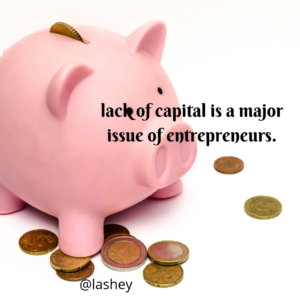 In the words of Olawale Ayilara during one of his speeches in the just concluded BrandmeClass, he stated: "when I said I started with zero naira, I did not start with zero reputation capital. Everything is not about money. Some things relationship will get for you. How you keep these relationships matters."
Now in starting a business, you might necessarily not have the funds to start the business, it is your ability to recognize opportunities and make use of these opportunities that you have that matters.  Sometimes you may not even get the opportunities but you can create these opportunities.
Also, another major factor is the relationship. Relationships are very important in this life. Value every relationship you have, you never can tell whose contact might be useful for you later on. Many things that money will not get for you but the right relationship will get.  Do you have a relationship such that you come to people's mind when an opportunity comes up? Don't slam just any door. Nobody knows whether the door you slam now might just be the network you need to accelerate your dream.
 Another important thing is when you have an idea about something, carefully select people to tell, that person might just have the necessary resource to fund the idea. Relationships are still a keynote here too. Have people of like minds with you that will ensure that you are fulfilling your dreams.  The power of positive relationships cannot be over-emphasized.
Leaving you with this I read about Bidemi Zakariyau – her first client was gotten out of the hunger she had to pursue her career in PR. Having called various potential clients, she finally got on to her first client and proved herself up to the task which led her to her second client and there and then she started building a portfolio of clients. So if you are waiting for one huge capital to land on your bed or one jackpot to hit, it just might never happen. Why not make do with what you have and you just might be surprised at the result you would get at the end of it.