Book Summary: 'Gay Girl, Good God'
One very interesting thing about the book is how Jackie did not, by telling her story, lose sight of the elephant in the room, which was the emphasis of the gospel. Contrary to your thoughts or maybe it is in my head, I did not purchase this book because I had questions about my sexuality. 
Why did I purchase the book?
It is Jackie Hill Perry!!! Lord knows how much I love that woman and her family. She is a model for my Christian journey. I am quite fascinated by Jackie Hill Perry. Far from her sexuality, I knew her as the spoken word artist that married another one. I used to be neck-dip in P4CM- it was the foundation of my Christianity, some sort.  Why wouldn't I buy the book?
Second of all, there is a proverb in Yoruba that interprets: If you want to catch a monkey, you have to act like one. While I particularly don't know anyone personally struggling with their sexuality, I wanted to have an understanding of the concept. And should I be faced with such circumstances, I have an answer to give. 
Gay Girl Good God- The story of who I was and who God has always been. 
 I will attempt to do a summary and in my next post, I will go through the salient for me. 
Short summary of the story
Jackie grew up fatherless, experienced abuse at a young age, experienced gender confusion and embraced both masculinity and homosexuality with every fibre of her being. One day, like Saul, except she was in her room, she had a personal encounter with God that changed the trajectory of her life.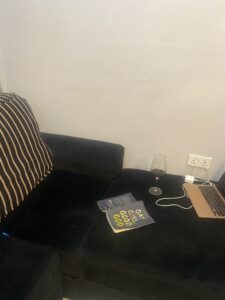 Long summary. 
Conceived by what many may call a sheer accident, she was raised by her mom alone. She knew her dad, like physical features and all, but did not necessarily know her dad. Here is what I mean, her father was a visiting father. But his love was not tangible. 'If any of y'all ever wanted to stop speaking to me or just wanted to leave me alone, I wouldn't care…' This was what her father told her during one of his visiting times. He was there like he wasn't there, till he wasn't there anymore. On hearing the news of her father's death, her emotions were confused about what they were supposed to be. 
She had a strange incident in her friend's basement and could not put to words the experience. Years later, she came to the understanding that what had happened to her in the basement was sexual abuse by a teenage relative after watching a woman's confession of a similar incident on the TV.  Emphatically, she says these events only exaggerated and helped direct the path.
Sin is fueled by desires. (James 1:14). 
Attracted to women before she knew how to spell her name, she was asked out by a girl at her high school dance. Not ready to own up to her then sexuality, she dismissed the question stating she was no gay. Following events of that night led her to embrace sexuality. Her attraction towards girls wasn't by virtue of some movies she had seen or something of that sort. As a matter of fact, where it came from made no difference to her. She liked girls and she knew it. She dressed and acted all masculine as advised by her first girlfriend till it became common knowledge. 
The encounter
At the age of 19, she had encountered God, in her room alone. Emphatically, she said; 'God was not calling me to be straight; He was calling me to Himself.' This was the very beginning of her walk with God. The following event explained her struggles of letting go of who she was and coming into a life of holiness. She soon realized that although her identity had always been a gay girl, that was not her only struggle. There were other sins lurking around that she needed to bring to the feet of Jesus. Homosexuality might have been her loudest sin, but it was not her only sin. 
And so, without a sermon, an altar call, or any emotionally-laden music gesturing to me to "come to Jesus"—just sitting in her bed, with the TV on and the sun not yet up—she had a Paul-like epiphany. 
In her trying to embrace womanhood as it was a strange concept to her as a stud, she embraced God's idea, as He began showing her how to be a woman.
The literary juice and spiritual nourishment it offered was a joy to behold. Written beautifully, bringing to life the very words in the book. Her wordplay was next to none. (Of course, she is a poet and rap artiste, one wouldn't expect less). This created a deep connection with the book. The book gives a good understanding of the gospel, using her life to tell the story of the gospel.
She began to feel the way she felt for her girlfriend at some point but this time it was towards a man- Preston Perry. Not knowing how to receive love from a man as she had faced disappointment from men at a young age, he became a threat.
With the help of the Holy Spirit, they were able to deal with their differences. Her proposal was at the end of one of his spoken words ( very 
cute, I had to add). Married now with 4 amazing kids.
Her story is not about a gay girl who is now heterosexual. However, her story is about a gay girl who found God and delights in Him. 'God isn't calling gay people to be straight.' She calls it the 'heterosexual gospel'. We are more than our sexuality. Many times Christians in the bid of trying to preach the gospel, preach to the gay community as if their sexuality is all that there is to them. 
We fail to realize that evangelism is only about God.  It is God who created us. God who we all sinned against. But still loved us and sent His Son Christ and lived the life we couldn't and died the death we deserved. It is Christ who rose from the dead and promised us the Holy Spirit and it is the Holy Spirit that unveils our eyes to see the glory of Christ. It is Christ that gives us eternal life. Anything outside this is far from the gospel. 
'For I delivered unto you first of all that which I also received, how that Christ died for our sins according to the scriptures; And that he was buried, and that he rose again the third day according to the scriptures.' (1 corinthians15:3-4)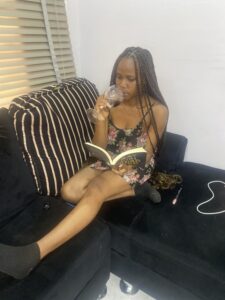 You can purchase the book here: http://bit.ly/TheWisdomMerchant